Everyone wants to hold onto their teeth for their entire lives, but sometimes, that just isn't possible. Poor oral hygiene could cause your teeth to rot and fall out or need to be pulled. However, there are other reasons people need dentures. Certain genetic conditions or medications can accelerate tooth decay, or they can simply weaken the teeth over time.
Some of our patients wonder do young adults get dentures, and the answer is yes! Even with a healthy body and good oral hygiene, teeth can simply wear down as we age, prompting an eventual need for new teeth.
Beavers and Broomfield Family Dentistry in Fayetteville, AR, can help you get your smile back with dentures or partial dentures. We know worn and rotten teeth can be painful and can cause problems eating, which can affect your overall health. Our dentures can bring back your health and your smile.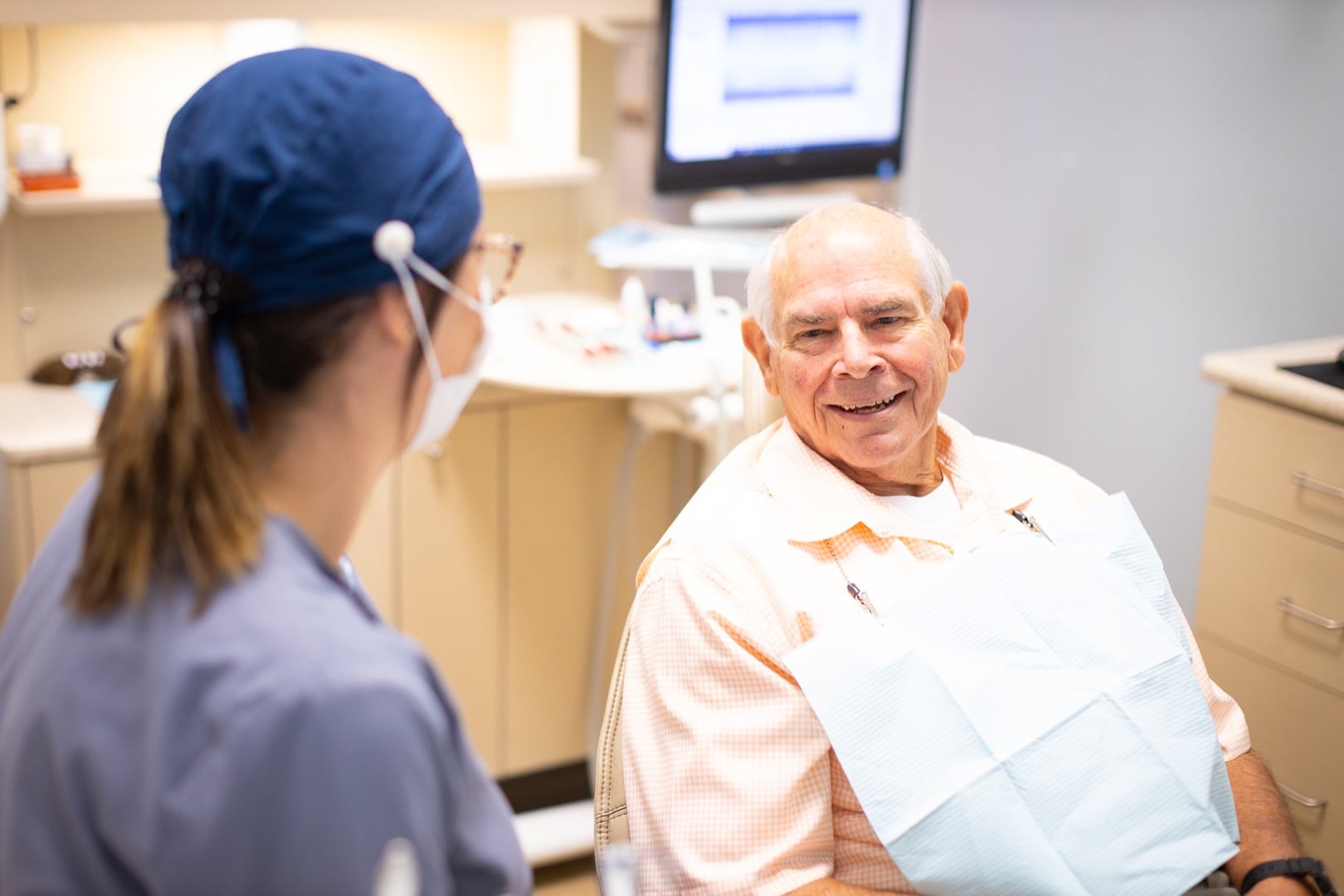 Dentures vs. Partials: What's the Difference?
Patients needing new teeth have two main options: partials and dentures. Partials are used to replace a few teeth in a row. Dentures replace all of the top teeth, bottom teeth, or both. Partials can be inserted using dental implants or crowns or by using clips that attach to nearby teeth.
With dental implants, small screws are surgically implanted into your jaw so the artificial teeth can be snapped onto them later. These partials usually stay in the mouth and aren't removed.
A partial bridge doesn't need surgery or dental implants. The artificial teeth are connected to crowns that fit over nearby teeth, creating a "bridge" of teeth. This type of partial also isn't removable. While it may make them harder to clean, it makes it easier for your mouth to get used to having your new teeth.
The third type of partial is a removable partial denture. The new teeth are attached to a plate with clips that grasp nearby teeth to hold the denture in place. The advantage is that these can be removed for easier cleaning. The disadvantage is that they tend to rub more, so it may take more time for your gums to get used to having them in your mouth.
Another option is full dentures, which replace all of the teeth on the top, bottom, or both. Full dentures can be implanted permanently using dental implants or can be removable. They are custom-fitted to your jaws, so they fit over and hold to your gums. The advantage is that your teeth have a uniform look, and you no longer have to worry about tooth decay.
How Do I Get Dentures in Fayetteville AR?
The first step to getting your new dentures is to determine what type of dentures you need. Do you just need partials, or are full dentures right for you? Would permanent dentures using dental implants be better, or should you have removable dentures?
Beavers and Broomfield Family Dentistry starts the process with a thorough examination to see which option is best for you. Then we take detailed scans of your mouth to create your custom-fitted dentures. You'll be able to choose tooth color and shape for a look that's more natural to you.
Once your dentures are created, we'll make sure they fit you perfectly and make any adjustments necessary. It may take a bit of time to get used to your new dentures, but we'll be with you every step of the way!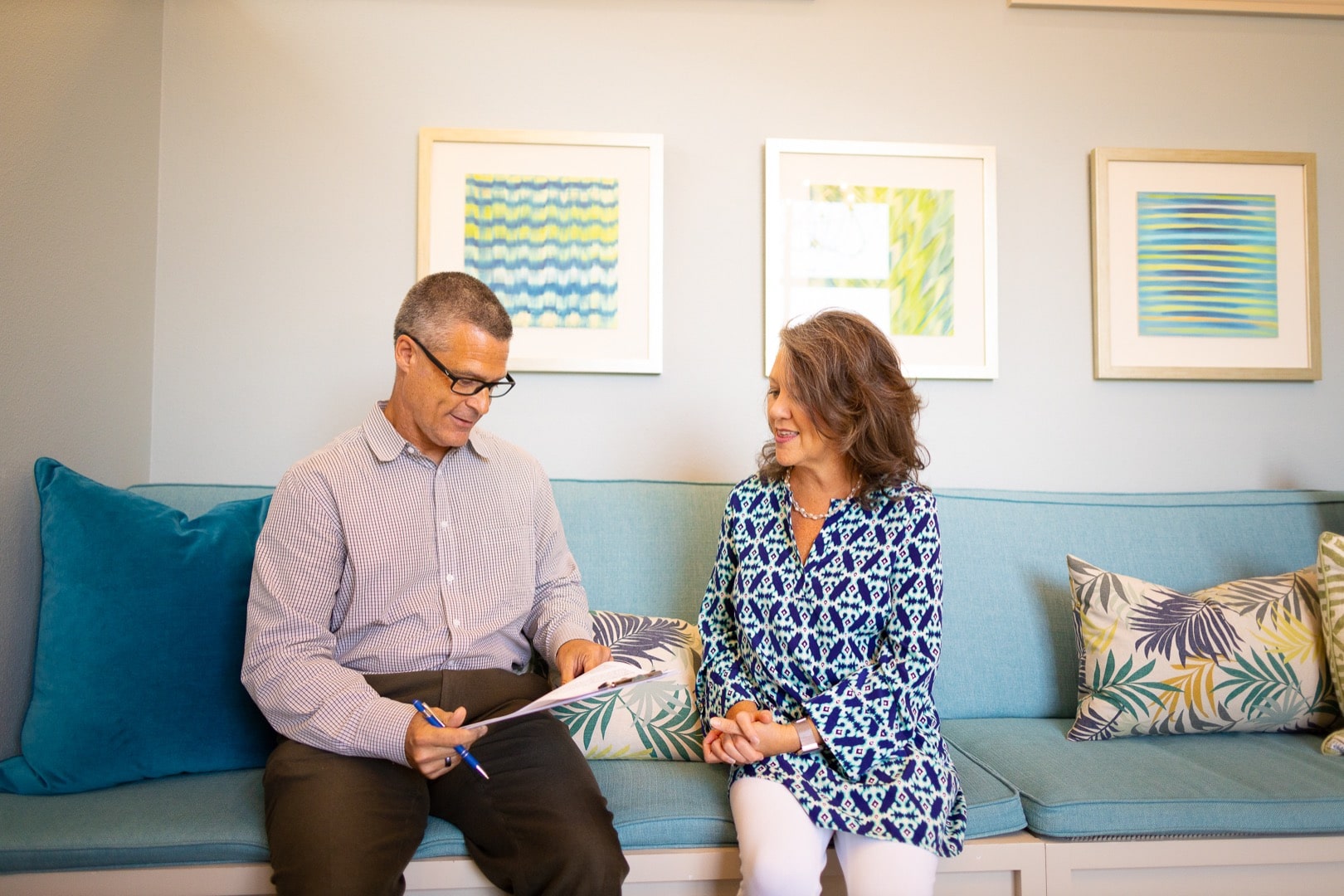 How Do I Care for My Dentures?
Once you get them, what's the best way to take care of your dentures? Can you eat with partial dentures or full ones? Can you sleep with dentures? What's the best denture adhesive? And how do you get adhesive off dentures to clean them?
Don't worry! We'll instruct you on the best ways to take care of your dentures. You will be able to eat with your dentures, though we recommend not sleeping with them, so you don't grind your dentures in your sleep.
Should you keep dentures in water overnight? Yes! Use the time while you're asleep to soak your dentures overnight to clean them.
It's just as important to keep your dentures clean as it is to keep your teeth clean. While your dentures will be made of a stain-resistant material, they can stain over time if not cleaned properly. When you see us, we'll show you how to clean your dentures.
As far as denture adhesive, there are lots of options. We suggest trying the top brands and finding the one that works best for you. When it comes time to remove the adhesive, you can use warm water and a washcloth to clean the adhesive away, as well as your denture cleanser. We'll show you how to apply denture adhesive and how to remove denture adhesive while you're here!
We also recommend you come see us for any adjustments that need to be made. Are dentures uncomfortable? If your dentures are rubbing part of your gums, don't just live with the irritation. Let us know!
We won't need to replace your dentures because we have ways to adjust them to make them more comfortable. We'll also be able to help if your dentures fit too tightly or too loosely. Your jaw will change as you age, which is why it's important to visit with us regularly to ensure your dentures fit properly and that your gums and jaws stay healthy.

How Do I Pay for Dentures?
Many dental insurance plans will partially cover the cost of dentures. The remaining cost is usually left to the patient to cover. At Beavers and Broomfield Family Dentistry, we work with you to come up with a flexible payment plan you can afford, so you don't have to worry about whether you can afford your new teeth.
We also offer a discount on dentures and partials through our Coverage to Smile About savings plan. An annual membership fee covers a comprehensive annual exam, semi-annual exams, an emergency exam, annual cleanings, and preventative care. It also offers discounts on treatments such as braces or Invisalign, as well as a discount for dentures or partials. We will work with you to find the best payment option for your budget!
Getting Started With Cosmetic Dentistry Near Me
Dentures or partials may be the best option for those who just can't keep their teeth healthy any longer. We know it's a big decision, which is why we take you step-by-step through the process and let you know whether dentures are your best option or if there are better options available.
How long do dentures last? They'll last until you no longer need them if you take care of them! If you're in Fayetteville, AR, or the Northwest Arkansas area, the best way to get started with dentures or partials is to schedule an appointment with Beavers and Broomfield Family Dentistry.